The Ponderosa Forest Civic Association Welcomes You To
Ponderosa Forest!
History and Design
Ponderosa Forest is a deed-restricted, master planned community developed in the late 1960s through the 1980s in multiple phases. It was built as one of the first subdivisions in the vicinity of FM 1960, pre-dating Olde Oaks and Greenwood Forest and sharing common master planning and architectural characteristics.
The subdivision is typically described as stable, established and upscale. Along with other neighborhoods featuring custom built homes in the vicinity, Ponderosa Forest is often referred to as the "River Oaks of North Houston."
Ponderosa Forest is heavily wooded and well maintained. Houses are sited on generous lots with mature native pine and oak trees. During the initial stages of land development, substantial areas of native woodland forest were reserved. The majority of homes in Ponderosa were custom designed and well appointed. Architectural styles reflect predominant suburban vernaculars of the early to mid-1970s including Georgian Colonial, English Tudor, French Colonial and Contemporary.
A Reminder To Our Registered Residents:

Effective January 30th: residents who have not paid their dues for 2014 will have no access beyond the home page.

After you register, you can check out all of the features on our website including news, photos in the photo gallery,
add your pets to the

Pet Registry
, or take a survey.

2014 EASTER EGG HUNT
Click On The Bunnies For Images From The Hunt
Ponderosa Forest Yards of the Month
The Garden Club recognizes homeowners with outstanding yards.

The Ponderosa Civic Association decided to recognize additional homes with
beautiful yards because there are so many nice landscapes in our neighborhood.
Please click the image below for a slide show of the April Yards Of The Month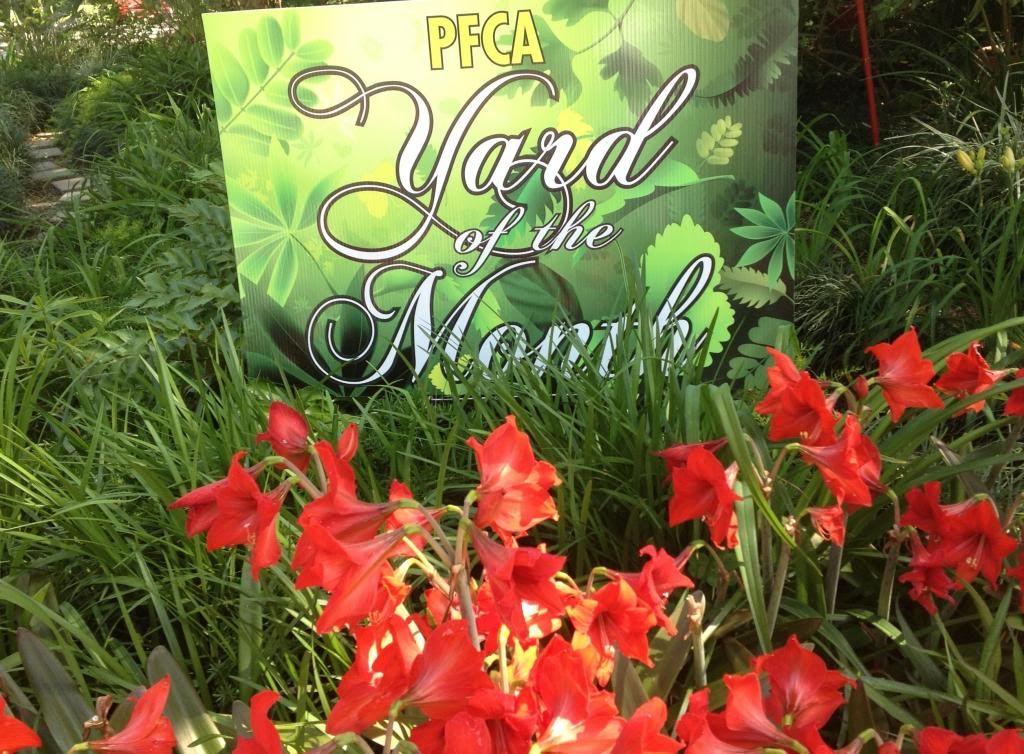 People of Ponderosa

Keith and Kim Rowe
A lot of people are attracted to Ponderosa Forest because of the many mature trees, large lot sizes, custom homes and great location. That holds true for Keith and Kim Rowe as well,
who have been residents of Ponderosa for a little more than eight years.
Being residents for eight years isn't all that remarkable, considering we have some home owners who have lived here for 20, 30 or more years. A few have even lived here since the neighborhood was first established. But what is unusual is that the Rowe's have bought and lived in four different houses over that time period.
They bought their first house on Wagon Gap Trail in 2006, sold it and bought a bigger house on Castlerock. After just a couple of years, they sold that house and bought a different house on Castlerock. Most recently, Keith and Kim bought their "dream" home on Woerner that they can see themselves "staying in for a very long time."
"Each time we moved, it was an upgrade in property," said Keith. "We love the homes in this neighborhood and we kept moving up until we reached our goal of having a big, beautiful house on a substantial and scenic lot."
But, lest you think that all they did was buy and sell homes and move around the neighborhood, the Rowe's also made significant improvements to each house they lived in – from
updating fixtures to installing new flooring and from making modest additions to complete, high-end kitchen remodels. They also expended enormous effort on landscaping at each house.
"We invested money, time and energy in every home we've lived in to update and improve it," Keith explained. "Those investments were not only for our own comfort and pleasure, but also ultimately for the betterment of our neighborhood."
"We feel comfortable here," added Kim. "We've made a lot of good friends and met some extraordinarily good people. We also love the charm of the various styles of homes, and especially love the tree canopy. You won't find either of those things in a newer neighborhood with 'cookie cutter' type homes."
In addition to the many one-of-a-kind homes in Ponderosa, the Rowe's also were impressed with the value of their properties. Of their current home, they remarked that the same house, in a neighborhood like the Woodlands, would certainly be double the price.
Keith and Kim feel there is much to offer in Ponderosa as an attractive place to call home – even if
there have been four of them.

Click here to request an interview or to suggest another resident for an interview!



Ponderosa Recycles!

In order to be more environmentally conscientious, Ponderosa Forest provides bins for residents wishing to recycle clean paper, cardboard, plastic and aluminum. Our community recycle bins are located behind the PFUD facility on Anvil. It's easy and convenient to pitch in to help preserve our environment by disposing your recyclable materials in the marked green containers.
(Sorry, no glass or tin products are accepted at this time)